Mason Bars & Restaurants
The Vault Deli
368 S Jefferson St., Mason, MI 48854
517-676-2696
You simply cannot find a better sandwich in Mason than at the Vault Deli. There are tons of choices here. Like pesto? Go with the Chicken Pesto Melt. How about chicken and turkey? Go with Rosemary's Food Baby. With over 30 different sandwiches and a variety of gourmet pizzas, there's a little something here for any palette.
Mason Depot Diner
111 Mason St., Mason, MI 48854
517-676-3344
For some of the biggest portions of breakfast food, the Depot Diner is the best location in Mason. The pancakes here are so huge that you'd think they'd buy bigger plates. The roast beef hash omelette is mouthwatering, while the Mulligan omelette will fill you up to the brim. The ambiance is great too — a bit old-fashioned, yet definitely clean and spacious.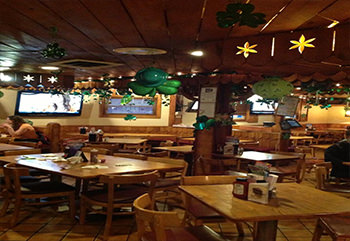 Darb's Tavern and Eatery
117 S. Cedar St. Mason, MI 48854
517-676-6943
Darb's is an amazing family restaurant. The ambiance is great, especially around the holidays when they deck the restaurant out in seasonal decorations. The food here is excellent. From the burgers to the pizza to the complete Mexican menu, anybody can find a great meal here. They also have live entertainment and good specials on some nights. While the beer is nothing fancy, there's more than enough cocktail choices to make up for it.
Bad Brewing Company
440 S Jefferson St., Mason, MI 48854
517-676-7664
Bad Brewing Company is Mason's local microbrewery. They serve the freshest beer in town. If you like a full dark beer, you can't find anywhere better. The Brothel Brown is one of the crowd's favorites, while their pilsner is a safe bet for those on the fence with craft beers. However, their speciality is IPAs, whether a doppel or a tripel. While they don't serve food, the rustic ambiance is enough to make you want to stay for another brew.
Courthouse Pub
160 W. Maple St., Mason, MI 48854
517-676-6941
The Courthouse Pub is another great bar in Mason. However, this bar has wonderful food. If you're into Ruebens, the one they cook up here won't let you down. But if you're looking for something a little lighter, the fish and chips are mouthwatering. The batter they use is perfect, and they don't rely on it for the flavor. The cod underneath it all is cooked very well. For beer, there's nothing too special here except for a few seasonal brews on tap.
---
Copyright © 2021 | All Rights Reserved.